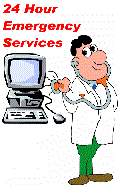 Your technology specialists that come to you!
With over 20 years in business we specialize in technology. Whether it is a mobile portable device like a cell phone, a laptop, a tablet, or a desktop computer we can help you with setup, configuration, security and data management, retrivial, and migration. We do more than just computer repair and networking of Windows and Mac Desktop and Laptop computers, we can also help you decide if now is the right time to buy your next piece of technology and help you decide which product to buy and then we will be there for you with the setup of that new device and help you learn how to use it too! We are family owned and operated. Emergency service available.
Give us a call today at 1-800-390-9811 extension #4!